Paul Brunton Daily Note

We are having problem with our mailserver - we are not able to send any daily notes!
To obtain something they greatly desire, men will arouse their will and apply it strongly. For at opnå noget, de ønsker meget, vil mennesker sætte viljen ind og bruge den kraftigt. Først når tilstrækkelig livserfaring modner dem tilstrækkeligt, er det sandsynligt, at de vil aktivere og anvende den samme vilje på den spirituelle søgen.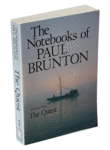 Fra The Notebooks of Paul Brunton, bind 2
Kategori 1: Overview of the Quest
Kapitel 2: Its Choice
Nummer: 69