Paul Brunton Daily Note

We are having problem with our mailserver - we are not able to send any daily notes!
Para obtener algo que desean mucho, los seres humanos despertarán su voluntad y la aplicarán con firmeza. Sólo cuando a través de la suficiente experiencia de vida maduren lo suficiente, es probable que despierten y apliquen esta misma voluntad a la Búsqueda misma.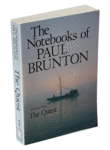 De The Notebooks of Paul Brunton, volumen 2
Categoría 1: Overview of the Quest
Capítulo 2: Its Choice
Número: 69