Paul Brunton Daily Note

We are having problem with our mailserver - we are not able to send any daily notes!
Per ottenere qualcosa che desiderano fortemente gli uomini risveglieranno la loro volontà e la applicheranno con fermezza. Solo quando una sufficiente esperienza di vita li matura quanto basta essi sono in grado di destare e applicare quella stessa volontà alla Ricerca stessa.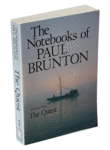 Da Gli appunti di Paul Brunton , volume 2
Categoria 1: Overview of the Quest
Capitolo 2: Its Choice
Numero: 69